Man, machine and environment in perfect harmony.
MELSERVO introduces the servo amplifiers to the market based on the concept of Human (User friendly and Safety function), Machine (High performance) and Environment (Energy saving).
To respond to an expanding range of applications including semiconductor and LCD manufacturing, robots, and food processing machines, MELSERVO-J4 combines with other Mitsubishi Electric product lines such as Motion controllers, networks, graphic operation terminals, programmable controllers and more. This gives you the freedom and flexibility to create a more advanced servo system.
Servo Amplifier
Compatible with SSCNETIII/H, General-purpose (Pulse and Analog input) interface. Compliant with safety standards. 2/3-axis servo amplifier.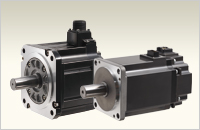 Rotary Servo Motor
4 Million pulse/rev encoder, 200 V AC/400 V AC Class, 48 V DC/24 V DC and range of products from 10 W to 220 kW.
HG-KR/HG-MR/HG-SR/HG-JR/HG-RR/HG-UR/HG-AK Series.